A couple of things occurred to me yesterday. One, it's almost July. Two, July is my month for the Quilting Bee, (and my birthday.) And three, I had no idea what I wanted to have you guys make. This happened to me last year, too, for my own Bee. I got so caught up in the fun of making everyone else's blocks, I completely forgot to think about what I wanted for my own.
So, I sequestered myself in my office and buried myself in my Flickr favorites and all the bits of inspiration that I have saved on my computer. Two hours later, I still wasn't sure what I wanted, but I kept coming back to this image.
This was made by
The Mayfly
for the
Virtual Quilting Bee
. I love it hard. The simplicity of the neutral tones, the fabulous texture, the pleats. (Oh! The pleats!) And so I decided to check out the rest of the blocks that were made for this particular quilt. And boy howdy! I loved them all!
So I thought I would just procure myself some neutral solids and ask you guys to make me texture-filled blocks. I figured it would be something you could all have fun with and use your own creativity and I would end up with something sophisticated and lovely. But then I saw this:
This was in the same Virtual Quilting Bee pool, but made for a different quilt and stitched by
Uncommon Grace
. And it struck me that this block was just as textural as the other blocks, even though it seemed so different at first. And I loved LOVED the little pop of color. And that's when it hit me. I knew exactly what I wanted you guys to make for me! Textural blocks with little bursts of color!
So, I went to look at Kona cotton to find a couple of similar tones to use for the background of the blocks. The problem was, I couldn't find a couple of similar tones that I liked... I found 10.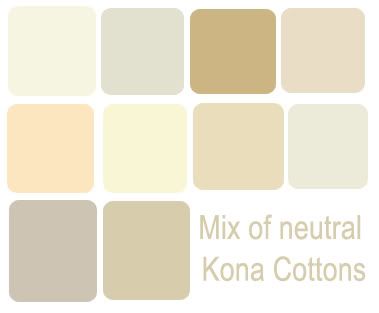 So, I bought them all. I mean, look at them! It's pretty much impossible to narrow it down any further, right?! So here's what I'm gonna do. When these get here in the mail, I'll parcel them out so each participant gets a portion of a couple of neutrals. With this, I'd like you to make me 12.5"x12.5" blocks featuring texture (pleats, pintucks, rouching, stitching, embroidery, etc.) and a small burst of color. I'd love for you to use fabric from your own stash for the pops of color, so that I can have a little of each of you in your block. The color sections can be prints or solids or both.

I don't really want to get any more specific, because I'm really looking forward to seeing how each of you interprets this! But please, let me know if you have any questions or if you need more fabric or would like me to send you some color along with your neutrals. Thank you!

*PS: Sorry about the weird way the photos got cropped, but I need to leave to pick up my CSA and don't have time to resize them all. Click on the images to see the full thing.